Narelle (pronounced nah-REL) was born to David and Isabel Worboys in 1976 and lives with them in Dannevirke, New Zealand. The only child remaining at home, Narelle is the second of six who were all educated using the Accelerated Christian Education program. The family began homeschooling when Narelle was eight. Her father David founded and directed New Zealand Christian Academy, a homeschooling branch of A.C.E., for twenty years, recently retiring from education and devoting his time to multiple community service endeavours.
Narelle has had a chronic illness since she was nineteen, a condition which severely limits her physical activity and social life. Despite this, Narelle is amazed at what the Lord has done in and through her. She has continued to educate herself in a variety of subjects, including music, creative writing, film media, and how a needle, thread, scissors, two hands, and an active mind can work together productively. Fascinated by fashion and design, she loves playing with colour, shape, and texture, often worked out in little things like drawing detailed floral vignettes with coloured pencils and creating beautiful greeting cards from paper and ribbon.
She is a published novelist, playwright, poet, and photographer. In 2006 she founded Script Haven, a library of scripts and tips for students and parents/teachers preparing for A.C.E. Student Conventions. Also in 2006, she participated in "The Way of the Master" eight-week training course and discovered the ease and excitement of witnessing to non-believers the way Jesus did.
Separated for a number of years from her singing siblings, in 2007 she achieved her dream to sing again, making her public debut as a soloist at the Dannevirke Town Hall. She's eager for opportunities to minister with her music. Between July and October she accompanied her father to local churches and clubs giving presentations about Operation Christmas Child, a mission she has embraced with a passion.
Her teddy bear's name is Charlie (he attached himself to her in a store, after which, naturally, she had to bring him home). Her daily encouragement is a star-gazing polar bear named Oscar hanging on her wall. Her Mum is the woman she most admires in the world, her sisters are her best friends, she likes to sing very loud when there's nobody to be disturbed ;), and chocolate éclairs (with real chocolate) are her favourite celebration food. She loves telling stories, she recently discovered she can Cook, and she gets a big kick out of making people laugh. She knows a lot about waiting, having a heart full of big dreams accompanied by the knowledge that if these are entrusted to the Creator's hands, they will come to pass in a way more beautiful than she could ever engineer.
Her prayer since the age of eighteen has been that the Lord will use her to transform young lives, that He would make her humble that she might communicate the quality of life that is consistent with the work of the Holy Spirit.
For more details about Narelle's projects visit
www.
NarelleWorboys.blogspot.com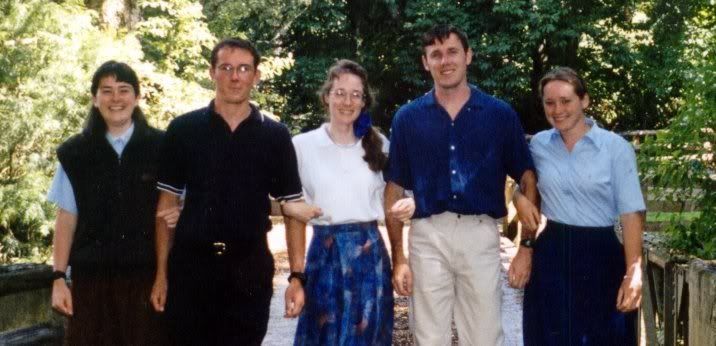 Click on the picture to see it in a larger size. Other family pictures available at
http://scripthaven.blogspot.com/2006_06_01_archive.html